Conflict is hard.  And, we all experience it.  Collaborative problem solving is not often top of mind when in conflict. Instead, anger and disappointment may drive people to look for immediate solutions that resolve the conflict at the expense of their relationship or their own needs, or that escalate the conflict and cause us physical, emotional, or financial harm.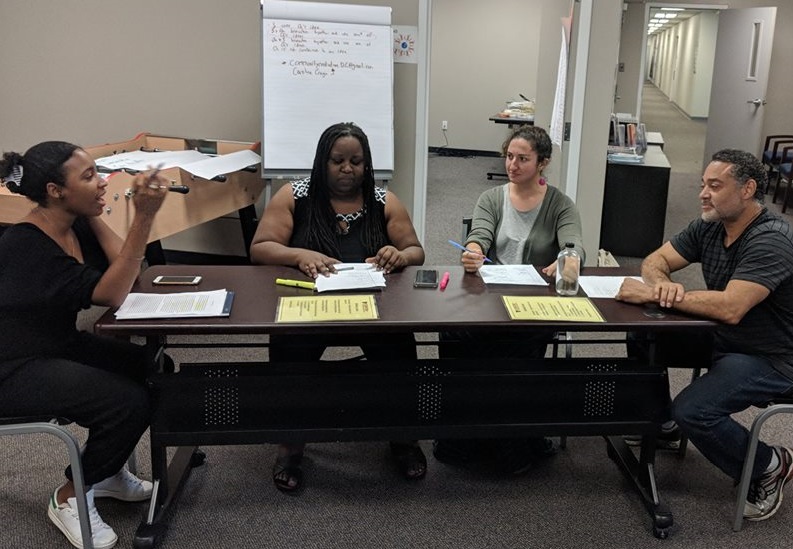 What is mediation?
Mediation is a voluntary and confidential resolution process that allows all participants to feel heard, to understand each other, and to improve their relationships. Through mediation, participants work with neutral, non-judgmental mediators to come up with their own lasting, win-win solutions to problems that directly affect them and their communities. Participants speak for themselves and make their own decisions.
The goal of mediation is for participants to get a better understanding of what's important to everyone at the table and come up with an agreement that works for everyone involved.
The Mediation Process:
1.   Explaining the process
2.  Talking about the situation
3.  Building a list of topics
4.  Brainstorming solutions
5.  Writing an agreement
Community Mediation DC offers mediation at no cost to participants and at times and locations that are convenient for all.  Conversations are facilitated by volunteer mediators who reflect the diversity of our community with regard to age, race, gender identity, income, education, and experience.
Interested in mediation or wondering if your conflict is a good fit for mediation? Give us a call or fill out the request mediation form above and we'll talk it through.
Community Mediation DC can help with the following challenges:
Neighborhood disputes
Workplace issues
Roommate or housemate disagreements
Collaborative planning and problem solving for co-parents
Collaborative planning and problem solving for Justice-involved individuals and support people*
School disputes
Interpersonal differences
Other difficult conversations
Family Mediation: Your parents are getting older each year.  You have been worried about being the only caretaker for your parents as they age.  In addition to caring for your aging parents, you're also a parent yourself, and stressed about balancing these roles.  You have a sibling who lives forty minutes away and doesn't have any children. You need her help to support your elderly parents.  Every time you try to talk to her about it you both explode. She thinks you're demanding and putting too many constraints on her time.  You think she's being selfish and inconsiderate. Mediation can provide a safe place for you to talk out what's going on and decide what could help the situation.
Other examples of family conflicts that may benefit from mediation include:
Parent-teen disputes
Conflicts between co-parents, guardians, or grandparents
Parents looking for a non-judgemental facilitator to support a collaborative planning process for their family
Interested? Request mediation.
Workplace Mediation: You and your friend started a business together.  You were both really excited to work together and you felt as though your personalities complemented each other well. However, it didn't take long to discover that your creative business partner couldn't or wouldn't maintain a consistent work schedule.  You feel exhausted, disrespected, and taken for granted because you are the only one who shows up for work consistently. You want the partnership to work out but most importantly, you don't want to lose your friendship.  At this point, you aren't really sure how to resolve the situation in a way that doesn't make you feel even more resentful. Mediation can help you both understand the other's perspective and talk through the situation to develop a mutually beneficial plan for moving forward.
Other examples of workplace challenges that may benefit from mediation include:
Conflicts between co-workers who want an outside, nonjudgmental facilitator

Disputes between supervisors and employees
Interested? Request mediation.
Neighborhood Dispute Mediation: You just moved into your dream neighborhood only to discover that your neighbor loves playing loud music into the wee hours of the night.  You're angry because you cannot sleep. You have tried talking to your neighbor about it, but talking hasn't made much of a difference. You do not want to call the police because you feel as though doing so would not be neighborly. Mediation can provide a forum that both helps solve the problem and improve the relationship.
Other examples of neighborhood disputes that may benefit from mediation include:
Civic association conflicts
Collaborative event planning among neighbors
Disputes between local businesses and resident neighbors
Interested? Request mediation.